"There's price and there's quality.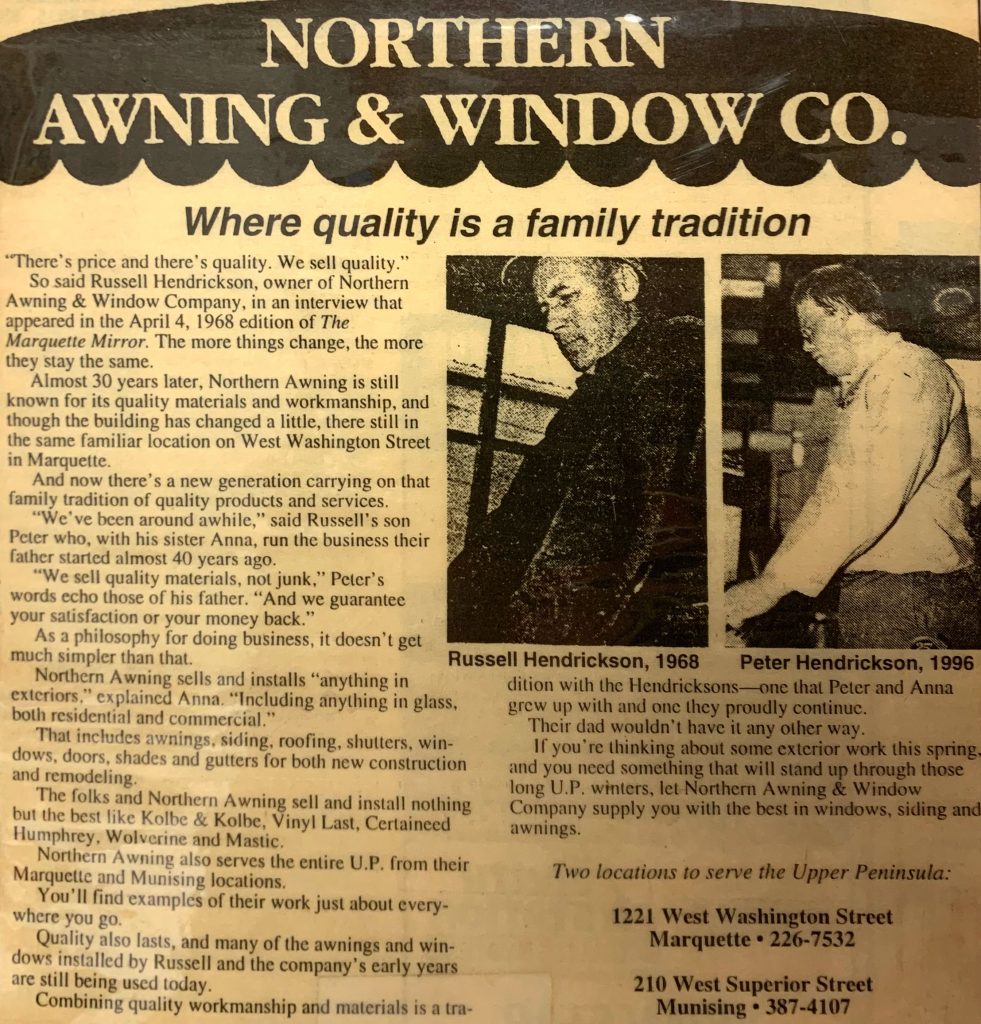 "There's price and there's quality. We sell quality." So said Russell Hendrickson, owner of Northern Awning & Window Company (NAWCO) in an interview that appeared in the April 4, 1968, edition of The Marquette Mirror. It is safe to say the more things change, the more they stay the same.
Forty-seven years later, NAWCO is still known for its quality materials, workmanship and service. While we are in the same familiar location on West Washington Street in Marquette, there is now a new generation of Hendrickson's carrying on the family tradition of quality.
"We've truly integrated ourselves into the local community, being the longest-tenured home-improvement business in the area," said Russell's son, Peter, who, with his sister Anna, runs the business their father started 57 years ago.
Peter is as direct and plain-spoken as his dad. "We sell quality materials and bring value to each and every project," he re-affirmed. "And we guarantee your satisfaction or your money back." As a philosophy for doing business, it doesn't get much simpler than that. "Northern Awning & Window sells, installs and repairs anything exterior," explained Anna. "We use great products, like our own locally-owned and -operated SuperiorLand Vinyl Windows, Kolbe and Kolbe wood windows, Certainteed, Wolverine, Mastic and Norandex sidings, GAF Shingles, and Duro-last Flat commercial or residential roofing."
Northern Awning serves the entire U.P. conveniently from our Marquette office. You'll find instances of our work just about everywhere you go because quality lasts. Many of the products installed by Russell during the company's early years are still in use today. "We respect the fact your most important investment is your home, so in the challenging economy we find ourselves, it is important to invest wisely. Northern Awning and Window keeps your home or business looking great and maintains its value," says Peter. Combining quality materials, workmanship and service is a tradition with the Hendrickson's; one that Peter and Anna grew up with and one they proudly continue. Their dad would not have had it any other way.
When appearance, energy efficiency and return on your biggest investment are important, turn to the leaders in quality products, great service, and cost-effective solutions; Northern Awning and Window Company. Stop by our office and we will gladly assist you with your home-improvement questions and needs. We are conveniently located at 1221 West Washington Street, across from Shopko in Marquette.